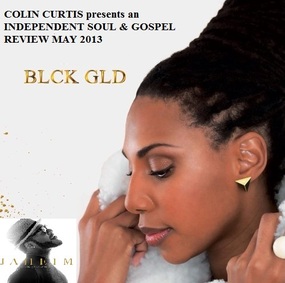 Colin Curtis presents over 50 Independent Soul & Gospel
tracks available in May 2013.All tracks available Amazon,
I-Tunes,CDBaby etc.....
Support the artists buy the music
Playlist
Independent Soul & Gospel
May 2013
If You Leave Rashaad
I'm Your Gentlemen Coalitions
The Hand of the Man Kimberly Pauley
Happy Jahah
Woman of the Year Dave Hollister
Age Ain't a Factor Jaheim
Couldn't Praise You Enough Extol
All Because of You Jimmy B & Glenn Jones
Touch Me C. Robert Walker
I Know Some One Andrea Andrews
Gleaming Hope M.W.B.
My Hope Is Built Extol
The First Time (feat. Ryan Toby) Tasha's World
Baby (feat. Valencia Robinson) Anthony Crawford
Maybe It's Not
Raffia
You and I Selina Albright
No Rock Yolanda Harris
Bed's Too Big Tasha's World
Sure Dionne
Love My Ghetto (feat. Darren Daniels) Merritt
Run Natasha Alexander
Must Be Love Maurette Brown Clark
Must Be Love Ron Djohn
Without You Poogie Bell Band
Don't Shake It Up Selina Albright
Lord Thank You Incomparable Reggie Boone
Milk & Honey The Endangered
Lucky Dionne
Heaven Honey Larochelle
The Battle Is Not Yours Zylphia Mcallister
Three Bells Natasha Alexander
It's So Wonderful Gloria Scott
We Go tLove Rayn
Don't You Know Jimmy B & Phil Perry & Gerald Albright
I'm Yours Ann-MarieLataille
God Tisa Willis
Find the Way Jeff Sheppard
Let It Go Raffia
He'll Supply It Ed Perry
Into My Life Raffia
No Woman Le'jit
Everything Will Be Alright Zylphia Mcallister
No Worries Shonda English
Fairtrade Dapaul
Tribute to the Ladies
Skip
Boardley Jr.
As A Nation ( Dave Lee Edit ) James Moore
I Heart You Joe Leavy
Blck Moon( It's Gonna Be Good) Tasha's World
Don't Let It Go to Your Head Zanyé
Love Train Tucka
How Do You Love Me Selina Albright
Sky Bluey
Let Me Go Dapaul
You and I Jonathan Winstead
Give Me Tonight Tasha's World
Move with Me Elliott Macauley
A big thank you to all the people who support !
You know who you are !
It is much appreciated enjoy the music !
Stay Blessed
Colin Curtis