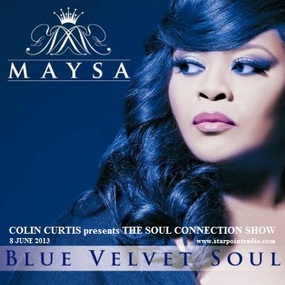 Wow ! How GOOD was that !! A BIG Thank You to everyone who came along to Manchesters Band On The Wall last night to witness Maysa's debut show as a headlining act. And boy did she deliver her silky golden voice was segued perfectly with her heartwarming storytelling and magical stage presence ! Just go and download / buy her new album Blue Velvet Soul ! Without a doubt last night was a "You had to be there moment !"
She was on stage for almost 2 hours but it flew by as she effortlessly presented songs from her 10 album repertoire with some great interaction and smooth interchanges as she fronted her very impressive and tight band very ably assisted by Angela Phillips on background vocals (a good friend of Tracy Hamlin,c'mon Tracy we are waiting for you :-).
Maysa's Hypnotic Love was the highlight of a wonderful set drawing a great response from the audience of happy smiley faces and genuine affection for Maysa ! If you are in or around London tonight Sunday June 16th Maysa is at The Jazz Cafe with special guest Noah Francis don't miss this ! Also a huge shout to Honey Larochelle who supported Maysa last night as she worked her way through tracks from her new album The Yes Feeling, this girl has some talent and again a superb stage presence checkout her album.Finally a big shout to Mike Chadwick and JM for making this happen !! And a personal thank you for everyones kind words :-) All in all A Magical Night !
COLIN CURTIS INDEPENDENT SOUL & GOSPEL MUSIC REVIEW
COLIN CURTIS SOUL CONNECTION SHOW
JUNE 2013 EPISODE ONE
PLAYLIST
www.starpointradio.com
This Is Your Life Tracy Hamlin
Work It Out (feat.
Indigo
) Earl Carter
Tell Me Something New (feat. Jeanne Jolly) Zo!
Ain't No Way Tracy Hamlin
One Love (feat. Coco) Soul Papers
Turn Out The Nightlight Tavares
Talk Me Down Vaneese Thomas
Feels Like Heaven B. Thompson
Halleluya PhatMix Urban Street Level
Backstage E.R.I.C.
Good Morning Sunrise (Duet with Bluey) Maysa
Be There Maysa
Sophisticated Lover Maysa
4 Ever N Luv R. Hannah
Love and Understanding Omari Shabazz
So Much Better Nikeland & Ebony Nichols
Bass Face Earl Carter
Lay Your Hands Arthur Johnson
September When I First Met You (Sensus Soul Remix) Barry White
It's That Feeling Eddie "Sea"
Whatsoever Terry Townsend
New Day The Walls Group
Where Do We Go from Here Ms. Neka
Do U Ever Camille Sledge
Royalty Kheyra
For Love Marcia Mitchell
Hey, DJ Erika Lovette
Ascension (feat. Dangelo Redman) Earl Carter
Sunshine Glenn Goldsmith
Making Time (feat. Phonte, Choklate) Zo!
Weekend B. Thompson
Hornificational Diane Marsh
When Your Soul Answers Maysa
What My God Had To Say Tisa Willis
Needed Deletta Gillespie
Jameela B. Thompson
Dancin With You ZanYe'
Bein' In Love With You Sheree Brown
Ain't Nobody Like You (Soulpersona Raregroove Remix) Crossroads ft Teisha Marie
Looking For You Rocco Raimundo
Let Me Be the One You Need Tracy Hamlin
For Your Love Mix Metropolis
Marta Ed Motta
Find the Love (feat. Coco) Soul Papers
Winner
Bradd Marquis
We Are On The Move (feat. Eric Roberson) Zo!
So Beautiful (Basanova Edit) Kym Still
Inside My Dream Maysa
I Won't Go Down Lina
Heaven Honey Larochelle
Love My Ghetto (feat. Darren Daniels) Merritt
Red Timotha Lanae
My Man Timotha Lanae
Stay Blessed
Colin Curtis
Thank you to all the usual suspects
Steve Ripley Bill Cason Ric Atari
0116 237 5461