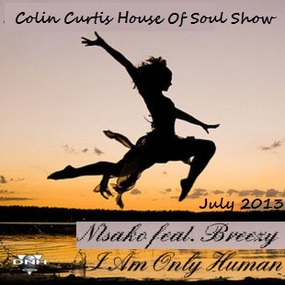 Colin Curtis Presents
The House Of Soul Show
New Jazzy Funky Soulful House
www.starpointradio.com
Playlist
July 2013
Nawe (Chymamusique Classical Remix) Cubique DJ CB
Cook Out (Main Mix) Ultra Soul Project
Overstanding (Anthony_Nicholson Remix) Luka ft Jaidene Veda
We R On Da Moov(David Montoya Edit) Zo!
Sax In The City (Original Mix) Dave Storm
Live A Lil' (Suges Remix) Meropa Park
Searching (Dj Fortee's Deeper Mix) Reelsoul Feat. Kaylow
Guru Dance (Silvia Zaragoza Remix) Steve Paradise
Set Me Free (Original Mix) Mike Sharon
You My Sunshine (DJ SGZ Deepah Mix) Saxture, Beaucy Nkosi
I Am Only Human (2896 Main Vocal Mix) Ntsako, Breezy
Far Away With The Legend (Paris C Remix) Lilac Jeans, Vusi Ngwenya
I Want You Back (Jonny Montana Latin Soul Rub) Romel Saunders and Kayla Dawn
Day Dream About You (Love Vocal Mix) Zulu Mafia, Master P.
New Day (Geoffrey C's Mix) Patti LaBelle
Miss You (Rodeep Jazz Instrumental) Rowick Deep, Leote Taylor
The Waters In My Eyes (PM Project Winter Remix) Imaani Brown
Dear Mother 2K13 (Trevor Ricci) Meechie Faire & LadyMarySound
Eu Soul (60 Hertz Project Remix) BSC feat. Andre
Keep It Together (Junior White Vocal Mix) Alex Garcia, Diana Waite
Samba Negro (Kokoa Remix) Cato Azul
The Jazz
Pianist
Loris Conte, Pippo Lombardo
The Brighter Side Of Life (Original Mix) Lewis Ferrier, J-Sax
Hallelujah (Demarkus Lewis Extended Praise Mix) Kerri Chandler
Promised Land 2013 (Mac Da Knife Remix) Anthony Thomas, Kim Jay
Get Up (Vocal) Scott Diaz & Matt Jam Lamont [Kings Of Swing]
Welcome to Fabulous House Music Funktastik!
Stay Blessed
Colin Curtis