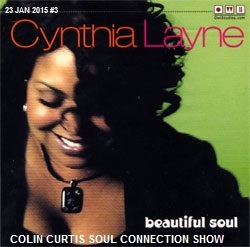 COLIN CURTIS presents
THE SOUL CONNECTION SHOW
NEW INDEPENDENT SOUL & GOSPEL MUSIC
23RD JAN 2013 #3
PLAYLIST
HI 5 (Taking Me Higher) Kejam (Feat. Lisa Taylor) Kejam
Best I Can ft. Habit Blcx Jasmine Jordan
Stand Up (Featuring Howard Hewett) Phil Perry
J.O.Y. Tyshan Knight
Stay (With Me) Cassandra Reaves
Show Me How To Love You Rhonda Thomas
Love Crazy Chazz MC
Push play Camera Soul
Kejam Theme Lorain Feat Lisa Taylor Kejam Feat Lisa Taylor
You're My Darling Leon Timbo
Make You Mine (CW remix) Samuel D. Sanders
Give Me A Sign (Main Mix) Lovebirds feat. Holly Backler
Other Side of Town (feat. Aisha A) J Billups
The Way You Say My Name Carol Riddick
Make Some Room The Suffers
Only a Smile Yonrico Scott
The Way That You Love Me Cassandra Reaves
Brand New Gina Carey
Turning the Corner Lisa McClendon
Overtaken Chris Lawson
What Is Love Live Hart
I Love The Lord (feat. Felicia Tiki Jones Farley) Minister Bill Y Farley Jnr
Still Together (feat. Feloney Davis) J Billiups
5am Lisa McClendon
Fantasy Love Ella Starr
A Better Man Phil Perry
Sometimes You Wanna Be PaviElle
Nobody Shatoria Rose
Greatest Love [feat. Tina Campbell] Brian Courtney Wilson
Making the Best of It Stony Murphy
Take It Back Titus Jackson
Holdin' On Nia Simmons
Is It Clear Minister Bill Y Farley Jnr
Time Machine Byron Jamez
It's My Time Streetwize
Always With U Dani Mendez
I Believe (feat. Brandon Winbush) Jonathan Grier & Tribe of Judah
Starting over (feat. Kenny Wesley & Carlyncia Peck) AfterSix Productions
Jump In Carol Riddick
Keeper of My Wings John Fluker
Get Thru Ella Starr
Come On Baby Marc Staggers
Taste It (feat. Jujuan) J Billups
I Blame You Streetwize
No Hiding Place Darrell McFadden & The Disciples
A Love Like This Ron Willis
Once You Let Go Carol Riddick
What You Won 't Do for Love Cynthia Layne
Happily Ever After [Radio Edit] Soulpersona & Princess Freesia
Reflections-of-A-Disco-Ball Paris Toon & Mother's Favorite Child
Stay Carol Riddick
I Shall Not Be Moved Sheleta Mason
LikeThis Carol Riddick
Giver The Suffers
Are You (feat. Leyla) Chazz MC
Temperature's Rising Raheem DeVaughn
Heal Me (feat. Tracy Carter) Jonathan Grier & Tribe of Judah
Love's Not Conya Doss
The Reason I Love Alex Lattimore
How I Live Chip Shearin
In Love With Love Gina Carey
Mind B.O.S.S
Games Ricky Ayala
I Want You (feat. Jonathan Grier) Jonathan Grier & Tribe of Judah
Let It Burn Jazmine Sullivan
Pimp Talk Cynthia Layne
On And On Barbara Bryant
Lighthouse Tony Remy
This rain Camera Soul
Your Love Is Calling Me (feat. Nynne & JR) WKM Records Presents
Be You Cynthia Layne
Stay Blessed
Colin Curtis
This Podcast is dedicated to Cynthia Layne (February 27, 1963 – January 18, 2015)
Cynthia Layne (February 27, 1963 – January 18, 2015) was an American contemporary jazz vocalist. Layne described her music as
"soothing to the soul...a mix of groove based R&B with strong jazz undertones."
She performed on stages around the world singing in a multitude of styles. Layne went beyond genre to find something of herself in any
music. Cynthia got her start hanging out in clubs and sitting in with local bands. From there, she started singing with groups
regularly, and quickly started getting shows of her own. She signed with Indianapolis jazz label Owl Studios in 2006.[1]
Layne's affect was felt on her last release, titled Beautiful Soul. Writing songs was something Layne had recently started tackling.
Layne has a large and growing fan base in Indianapolis, IN, and had worked closely with Rob Dixon, and Reggie Bishop.[1] She died of
cancer at the age of 51 on January 18, 2015