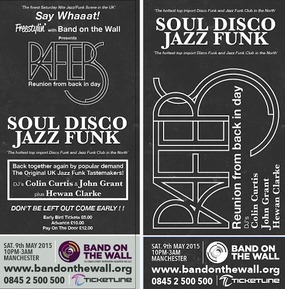 COLIN CURTIS presents
RAFTERS REUNION PART ONE
70'S 80'S SOUL JAZZ & FUNK
PLAYLIST
Love Don't Strike Twice
I CAN'T STOP (TURNING YOU ON) SILK
One way love affair Marc Sadane0
IT'S JUST THE WAY I FEEL GENE DUNLAP
Street Tough Ben E King
EMOTION MERRY CLAYTON
You & Me Galaxy
Night Life Barney Blair Perry
Didn't Know About Love (Till I Found You) Lenny White
MUST HAVE BEEN LOVE WORNELL JONES
maracatu atomico Gilberto gil
Cobra Dale Jacobs & Cobra
Classy Lady Noel Pointer
If You Ever Need Somebody Charles Veal
I never made love ARCHIE BELL
The Get Down Mellow Sound Players Association
Dancin love affair Wayne Henderson feat. Ron Banks
Eyes Of Mind Casiopea
The Sound of Music Dayton
Land Of The Third Eye Dave Valentin
Autumn Jewel Travis Biggs
Hunt Up Wind Hiroshi Fukumura & Sadao Watanabe
Qual E Malindrinho (Why Are You So Bad) Roberta Flack
Flying Machine War
You `re a Star Starship Orchestra
Save Some For The Children Howard Kenney
Get Another Love Chantel Curtis
Waiting On Your Love Young & Company
Song For The Children Lonnie Liston Smith
Pigmy African Suite
My Delight Mikio Masuda
Lady bug' Wayne Henderson
Jamaica SWEAT BAND
Young Child Ronnie Laws
Bullet Train Friendship
The slide Chick Corea
The Sound Table Cameo
Sambita Mongo Santamaria
Prance On Eddie Henderson
Blackjack Locksmith
Stay Blessed
Colin Curts
A Rafters Reunion!
DJs – the original jazz funk tastemakers:
Colin Curtis, John Grant and Hewan Clarke
We celebrate the hottest top import disco funk and jazz club in the North and the music that emanated from it.
From 1978 - 1983, the Manchester cellar club was packed to the rafters every Saturday with DJs playing soul, jazz and funk fusion.
This is the first time Colin Curtis & John Grant have appeared together on stage since 1984 in Manchester!
Expect: Roy Ayers, Debra Laws, Mandrill Kleeer, Sharon Redd, Starpoint, Joe Sample, Crusaders, Lonnie Liston Smith, Players Association, Airto, Al Hudson, Gap Band, Rick James, Jean Carn, Teena Marie, Mystic Merlin, Atmosfear, Deodato, Glenn Jones, Kenny Burke, Terumasa, Hino, Alphonse, Mouzon Maze, Lenny White, Candido, Dexter Wansel.
Relive those memories from a live defining club. Gonna be a big thing!
Colin Curtis interview here at electrofunkroots:
Hewan Clarke interview at electrofunkroots: