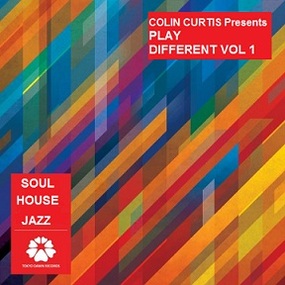 Colin Curtis House Of Soul Special
Play Different Volume One
A Mixture of Soul Jazz House
November 2012
Playlist
Children Of The Sun feat. Heidi Vogel Positive Flow
Give It Up turn It Loose Quasimode
Phaedra's Flight Positive Flow
Moving On Root & Groove Element
Rise (The Sunchasers Remix) Grooveboy
Soul Cookin' Quasimode
Rio de janeiro (Dom Navarra Latin Magic Mix) Mustafa
Sao Salvador (M's Deep Vocal Mix) Mustafa
Saying Nothing (Matt Early Remix) Franky Fresh ftg Billie
Searching Piers-Kirwan-Remix-RDC-Digital Roberto De Carlo featuring Dyanna Fearon
Dream In Brazil (Original Mix) Cool Affair
Febre Samba Quasimode
Orange & Brown Positive Flow
Look Around Any Corner feat. Sharlene Hector Positive Flow
So Good (Original Soulful Vocal Submantra & DJ Umbi

Cd & IPod Friendly.
Support the music