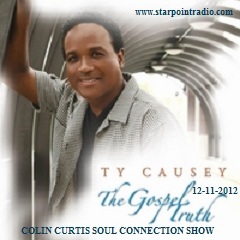 Hour One
Was It Love Michelle Miller
Be Free Chris Crain
Becoming the Man I Want Ms. Monique
Mamas Baby Boy feat Cleve Jones Elliot Macaully
Soul The Floacist
Feeling You Jeffery Smith
SweetJesusHowCanI Ty Causey
Morning Light Personal Life
Must Be An Angel Sounds Of Imani
The Sun Rhonda Dorsey
Destiny Jeffery Smith
OnlytheStrongWill Ty Causey
Usher Me In Cristal Smith
Play It For Me (feat. Tesa Williams) David P. Stevens
Hour Two
Better Days Vesta Williams
Perfect Opportunity Ms. Monique
Children Of The Sun feat. Heidi Vogel Positive Flow
TheEyesofLove Ty Causey
My Love Is All I Have Charlie Wilson
Something to Remember Alvin Frazier
Do It All For You Anthony Hamilton
Summer Sweet Khidhar Entertainment
Love feat. Gianna Carl Stanley
Luvz On Lock Ms. Monique
Yet Will I Trust You Angi Lewis
In The Garden Of Your Life feat. Vanessa Freeman Positive Flow
In Love Again Lesha P.