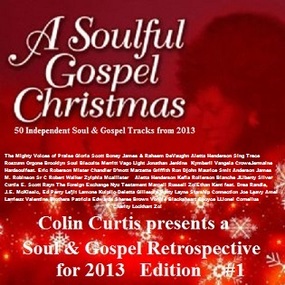 Colin Curtis presents
A SOUL CONNECTION
2013 Retrospective Edition # 1
Soul & Gospel Music
Playlist
Stay in the Race The Mighty Voices of Praise
Never Gonna Let You Go Gloria Scott
Maker of Love Boney James & Raheem DeVaughn
Running 4 my life Aletta Henderson
Wait on Me Sing Trece
A Hold ofYou Roszunn
Anticipating (feat Tiffany Austin) Orgone
Its All About You Brooklyn Soul Biscuits
Love My Ghetto (feat. Darren Daniels) Merritt
Can't Find a Love Like This ( Latisha Davis) Vago Light
Sit Back, Be Still Jonathan Jenkins
God's Got It Kymberli
Greener (Original R&B Mix) Vangela Crowe
We Can't Finish Jermaine Hardsoulfeat. Eric Roberson
Try God Mister Chandler
God Is the Way D'mott
Hello Lady Marzette Griffith
Must Be Love Ron Djohn
One Kiss Maurice Smith
Only One Way (feat. K'jon) J. Anderson
All Things Work Together James M. Robinson Sr
Bit By Love C Robert Walker
The Battle Is Not Yours Zylphia Mcallister
You're the One Aletta Henderson
Put It on the Altar Kefia Rollerson
You Are the One Blanche J
My Desire - Featuring Liberty Silver Curtis E. Scott
We Got Love Rayn
Better The Foreign Exchange
Company Keeper Nyu Testament
You Bring Me Joy Marcell Russell
Making Time (feat. Phonte, Choklate) Zo!
My Hope Is In Glory (Radio Edit) Ethan Kent feat. Drea Randle, J.E. McKissic,
He'll Supply It Ed Perry
No Woman Le'jit
High Off You Lamone
Pieces Kuipiio
Needed Deletta Gillespie
I Won't Complain Patty Layne
We Can Go All Night Starship Connection
I Heart You Joe Leavy
Afraid Amel Larrieux
Taste Of Your Love Valentine Brothers
You Can't Give Up Patricia Edwards
Bein' In Love With You Sheree Brown
Walking In Victory Vonnie Blackshear
Keep It Movin' Choyce Love
Time Lionel Cornelius
Live to Love Charity Lockhart
We Are On The Move (feat. Eric Roberson) Zo!
Stay Blessed
Colin Curtis
A Huge Thank You To Everyone Who Has Supported The Show
& THe Music in 2013.