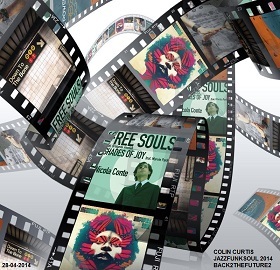 Colin Curtis presents
JAZZFUNKBACK2THEFUTURE2
New Jazz Funk Soul For 2014
28-04-2014
Playlist
Hi Welcome to the the second podcast in my series
to highlight some of the music being made in 2014
championing the case for REAL bands REAL instruments
featuring the sound of JAZZFUNKSOUL for 2014 !!!
Hope you enjoy ! Don't forget all these albums are available
to purchase cd's vinyl & downloads .
Support the artists !
Riverflow Tristan
The Bounce Down To The Bone
Sleepwalkers Jarrod Lawson
Silver Shadow Incognito
Getting It Together Down To The Bone
Wind Sorceress Incognito
Saving All My Kisses Soulperfreesia
Put A Different Spin On It Down To The Bone
Think About Why Jarrod Lawson
We're On The Move Down To The Bone
Making Music's What We Do Soulperfreesia
Happiness Is A Healer Down To The Bone
Dropping Knowledge Down To The Bone
Free Souls[Bridgette Amofah] Nicola Conte
Metoritea Down To The Bone
Show Me (Radio Edit) JD73
Dig It Down To The Bone
Free Souls[Bridgette Amofah] Nicola Conte
Feeling Nataya
Give Me Love Down To The Bone
Moontune Tristan
Never Known A Love Like This Incognito
Goddess Of The Sea Nicola Conte ftg Jose James
Keep It Working Soulperfreesia
Stay Blessed
Colin Curtis