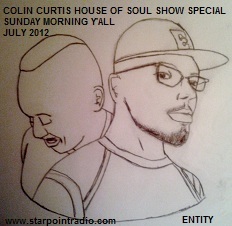 Colin Curtis House of Soul Show Special
It's Sunday Morning Y'all !!
July 2012 Soulful Gospel & Jazzy House
Playlist
www.starpointradio.com
Magic (Entity_s Soulful Vox) ENTITY feat. Charles Cooper
Life In Heaven ZuluMafia
Heaven (Chuck's Goin' Out Mix) ENTITY feat. Charles Cooper
Heaven (Lauer & Canard feat. Greg Note Remix) Mike Scot feat. Miss Bunty & Saxy Mr.S
Live In You (Original Mix) Jay's Toy Robot feat Biblical Jones
My_Fathers_Arms_(Vincemo_Hang_Session_Unreleased_Mix) DJ AX feat.Charles Dockins
Abigail (Andreas Saag Remix) Black Sauce
Here With You (The Layabouts Vocal Mix) The Layabouts feat. Terri Walker
System_Mood_[feat._Lady_Funk]_(Aphreme_Remix) Deep Yall aka DJ Rico
In the Summetime (Main Mix) The Brooklyn Playerz [DJ Romain - Vincenzo Siracusa]
More Than Conquerors Sow
Summer_Haze_(Deep_Jazz_Mix) Two 4House

Support the Artists Buy The Music !
Traxsource Amazon ITunes Beatport etc
Thanks