Colin Curtis presents
Independent Soul & Gospel
Volume One
Playlist
I Wanna Be Loved Forever Andre' Lee
Look How Far We've Come (feat. Maysa Leak) Deon Yates
It's Gonna Be a Showdown David Brinston
Don't Take YourLove Away Bobby King
No Reason Tracy Carter
Get Some, Pt. 1 Tarrey Torae
The Look in Your Eyes Cardell
I Love You Nia
I'm High Muhammad Ayers
Girl talk Howard johnson
Let God Be God Brenda Lee Eager
Made a Way Charles Bond
I Can't Help It! Toni Ann Semple
Got Love (feat. Siedah Garrett) Shilts
I Can't Help It Tracey Whitney
Sweetest Drug Ftg Roc the Writer Will Holton
Peace Love and Happiness Stevie Hawkins
Where Is The Love Tracey Whitney

CD Friendly
Support the artists all
tracks available CDBaby,Amazon,ITunes.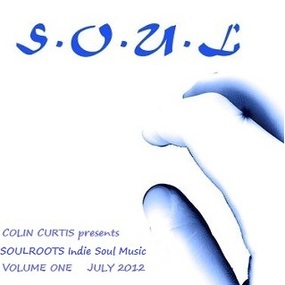 COLIN CURTIS presents
SoulRoots Volume 1
Showcasing Inependent Soul
That draws from its roots
Playlist
Cd Friendly
Sing The Blues Shiro Bazil Meade
Baby its over Koree Rudolph
Only You Stevie Hawkins
Loose What You Got Willie Clayton
Mend Your Broken Heart Willie Clayton
Love Is The Light Ish-illa
Change Is Gonna Come Linda Boston
A Change Is Gonna Come Jesse James
Where Did Our Love Go Lenny Williams
Back-2-Cool Kenny Lattimore
So glad Koree Rudolph
Toast to My Friend Ali Woodson
In a Black Man's World Ellis Phelps & William Swann
KingofHearts Johnny Rawls
Love Is Forever Freddie Lee
I Can't Help Myself Lashun Pace
She Was At The Hideaway Donnie Ray
All tracks available to
download or buy from Amazon CDBaby ITunes etc.
Support the artists.
Thank You.